Residents are lucky to call San Francisco home. With a plethora of things to do and enjoy in the city, it's not hard to see why people love living here. Let's explore what makes the City of Fog one of the best places to live in America.
Diversity
San Francisco is known for its diversity. With a reputation as a city of transplants, locals enjoy the rare privilege of living, working, and socializing with neighbors from all parts of the country and the world. Such diversity makes the city a multicultural destination, allowing anyone of any background to feel at home and explore a variety of cuisines, entertainment, and lifestyles.
Accessibility

Save money on gas, skip the headache of traffic, and take advantage of the incredible San Francisco public transport system. Several options are available throughout the city, including cabs, trollies, buses, ferries, and more for your daily commute and leisurely activities. Walking and biking are common activities in San Francisco thanks to the close proximity of many restaurants, shopping areas, parks, and more.
Job Market
With its booming economy and lucrative career options, there are plenty of opportunities for employment in the Bay Area. Some of the most infamous tech giants have offices in San Francisco, with the likes of Google, Facebook, Netflix, and Apple contributing to the competitive job market. The tech savvy aren't the only people with opportunities in San Francisco - healthcare, hospitality, food service, and other industries feature robust job markets in the city as well.
Weather
Despite being known as the City of Fog, San Francisco boasts great weather year-round. With its temperate climate, locals enjoy the healthy lifestyle that comes with partaking in outdoor activities throughout all seasons. With typical low temperatures sitting in the mid-40s and highs reaching just into the 70s, San Francisco has the perfect climate for relaxing, exercising, and socializing in the fresh air.
Things to Do
San Francisco locals keep as busy and engaged as they want to be, as they never run out of things to do in this town. The city offers a variety of ways to spend time indoors and outdoors - museums and parks are plentiful in San Francisco, each with its own draw. Countless nature museums can be found throughout the city, with the large San Francisco Zoo offering residents free admission periodically. The expansive 55 acres of the San Francisco Botanical Garden is considered to be one of the best of its kind in the world and is free for residents year-round. There are also science museums such as The Exploratorium which features interactive exhibits across its six galleries.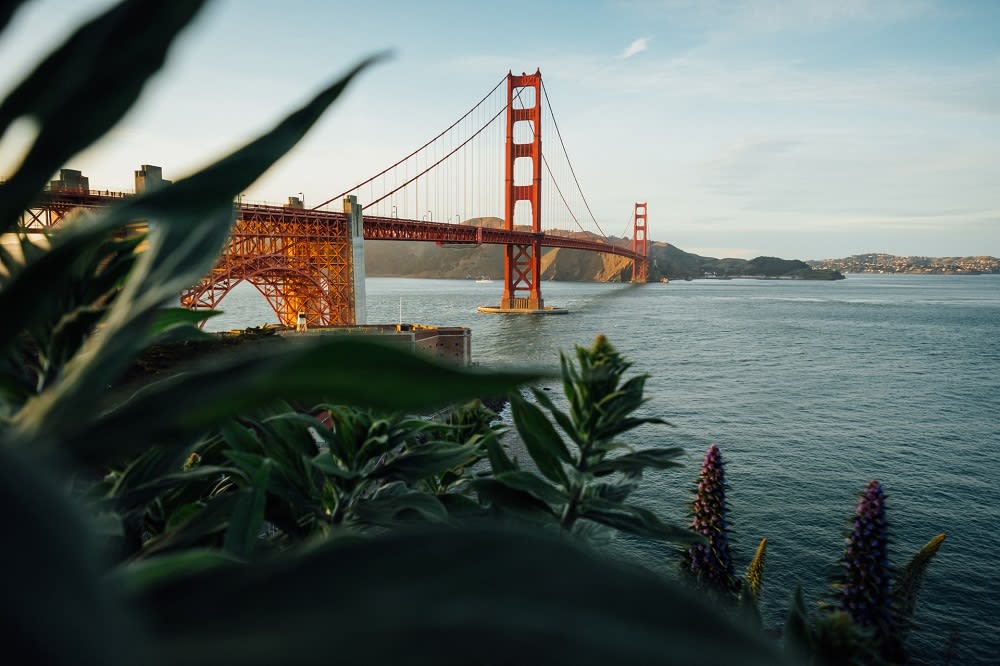 There are also many great outdoor spaces to enjoy. Ocean Beach is the perfect place to go for bonfires and windsurfing, while Baker Beach is a great fishing and picnicking destination. Golden Gate Park, with its panoramic views of the bridge and bay, is an excellent outdoor space for a variety of activities including several sports complexes and walking trails. The Presidio of San Francisco, with several trails crisscrossing the dramatic cliffs overlooking the Pacific Ocean, offers many places to enjoy the local wildlife within its 1,500 acres.
The Food Scene
With a food scene as diverse as its population, San Francisco has something for everyone's cravings. Residents can travel the world via their palate without leaving the city they love. Highlights include The Front Porch with its Southern and Caribbean-inspired fare, Pica Pica Arepa Restaurant which offers a menu of Venezuelan eats, Fog Harbor Fish House for the city's famously delicious seafood, and then classic American at Gary Danko.
Welcoming Community
Another enticing aspect of San Francisco is its welcoming and friendly atmosphere. Whereas most cities are caught up in the hustle of urban living, residents of San Francisco still have time to slow down and welcome new residents. In addition to its impressive diversity, the city's neighborhoods all have a strong sense of community where neighbors befriend neighbors. Most residents agree that it's easy to make friends in San Francisco.
Nightlife
Like its food scene, San Francisco is also highly regarded for its fun and energetic nightlife. Several clubs and bars are located in the city, with a higher concentration in the eastern neighborhoods. Places like Temple Nightclub San Francisco are renowned for their dancefloor and elevated music choices, whereas Alchemist Bar & Lounge with its steampunk-inspired decor and signature cocktails offer a more laid-back experience. For those seeking live entertainment, San Francisco has many great performance venues, including movie theaters, opera houses, and playhouses.
Full of Opportunity
Taking everything above into account, San Francisco is a city filled to the brim with opportunities. Whether you want to take advantage of the ever-growing job market or you're looking for a place to relax, there will be many things to love about San Francisco. Residents and visitors alike are drawn to the varied and exciting dining and shopping scene before enjoying a night out with friends. In San Francisco, the world is your oyster.
Creativity
Creativity is central to San Francisco. As a city, it's always seeking to improve upon itself and provide inventive ways to face the ever-changing world. One of the most well-known facets of life in San Francisco is the idea of self-expression. Embracing this culture of creativity is easy with the numerous festivals held around the year, and the plethora of world-class art galleries and performance spaces in the city.
If you are looking to take advantage of this great city and wish to own your own piece of San Francisco real estate, please feel free to contact us. Payton and Binnings of Artemis Real Estate are an experienced and highly knowledgeable team that can help you find the perfect home.