Cow Hollow is a trendy neighborhood in San Francisco bustling with restaurants, wine bars, Pilates studios, boutiques, spas, and everything else you could want or need. About 6,000 people especially young professionals call this beloved district home. As you stroll down Cow Hollow's historic Union Street, you'll surely see residents in one of the many community cafes, working remotely, reading for pleasure, grabbing a bite, or catching up with friends.
Whether you're in the neighborhood to sightsee or check out Cow Hollow real estate, take some time to relax and get a drink at these six must-visit cafes.
Müesi Cafe
Müesi Cafe
is known for its espresso drinks, customizable muesli bowls, breakfast sandwiches, healthy snacks, and high-speed internet. This European-inspired cafe's menu items are made with local and healthy ingredients, including the coffee from
Andytown Coffee
, an artisan coffee roaster founded in 2014 located in the Sunset District of San Francisco.
If dairy isn't your thing, enjoy your coffee with the cafe's housemade almond milk, sweetened with dates instead of sugar. Or try one of the wellness lattes, like the turmeric-ginger latte or the activated-charcoal latte. Müesi Cafe is a favorite for locals who need to get work done outside of the office because it stays open later than traditional coffee shops, which typically stop service earlier in the afternoon. Guests can enjoy food, coffee, and WiFi until 5:30 p.m. on weekdays and 6:00 p.m. on the weekends.
Coffee Bodega Farm-to-Table
Coffee Bodega
claims to serve "the best coffee you'll ever taste." The coffee shop proudly serves farm-to-table coffee that has been grown, roasted, and sustainably packaged high in the mountains by small farmer cooperatives. The coffee shop strives to serve great-tasting and high-quality coffee, bring consumers and farmers closer together, and improve the coffee custody chain to make a positive difference in the coffee-farming industry. Devoted customers of Coffee Bodega frequent the establishment because of the socially responsible values and irresistible aromas and flavors.
Coffee Bodega has a variety of beans to choose from, but locals prefer the Costa Rican medium roast Dota Reserva Especial, which has notes of pineapple, orange, and milk chocolate. Other favorites include the Costa Rican medium roast Naranjo Reserva Especial, which has milk chocolate, kiwi, and pineapple notes, and the Costa Rican medium roast Dota single origin, which has notes of blueberry, banana, and chocolate.
Twisted St. Cafe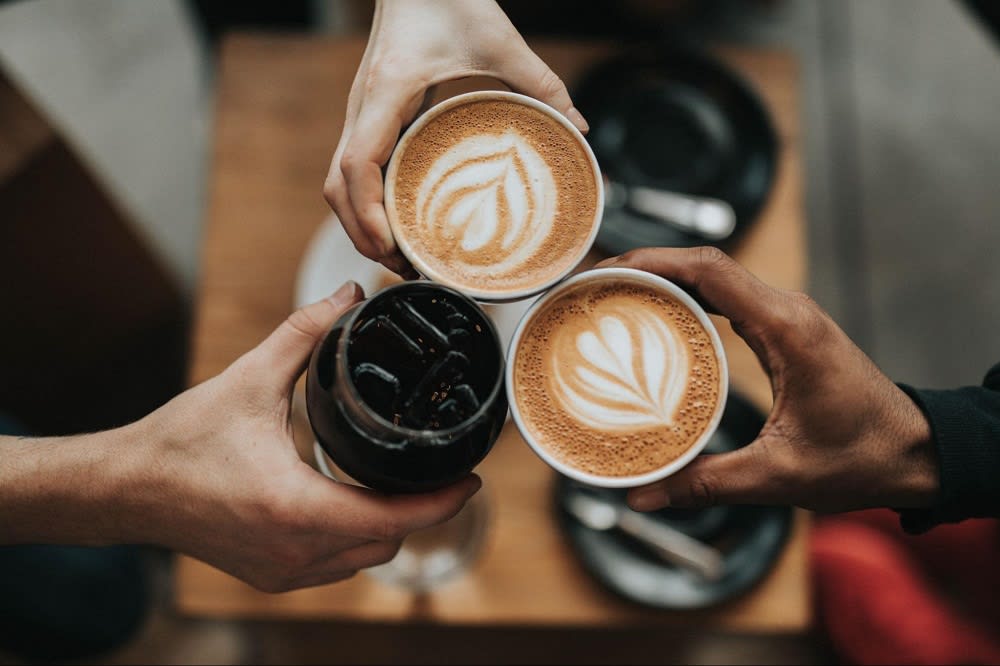 Twisted St. Cafe
is a family-owned cafe that serves breakfast, lunch, and coffee to guests from 7 a.m. to 4 p.m. daily on Lombard Street, San Francisco's second most twisted street. Guests rave about the avocado toast, smoked salmon, and molletes as they sip on matcha lattes and horchata cold brews made with
Ritual Coffee
, a local, independent coffee roaster that has been roasting its own beans since 2005. Twisted St. Cafe was also recently featured on
San Francisco Magazine
's list of the "Nine Best Bagels in San Francisco."
Cafe Boho
Cafe Boho
differs from other cafes in the area because they are open only in the evenings during the week. They open the doors at 5 p.m. Tuesday through Friday, but on the weekends, they're also open for brunch from 11 a.m. to 3 p.m, serving bottomless mimosas and other items from the full bar alongside the regular menu. Favorite menu items at this upscale eatery include fresh oysters, the "seacuterie" board for two, and the whole roasted branzino. If brunch is more your thing, you won't go wrong when ordering from the sweet and savory crepe menu. Guests can also choose to order from the cafe's pre-fixe menu there's a $49 three-course and a $75 five-course option. Keep in mind that proof of COVID-19 vaccination is currently required for indoor dining.
Cracked & Battered - Marina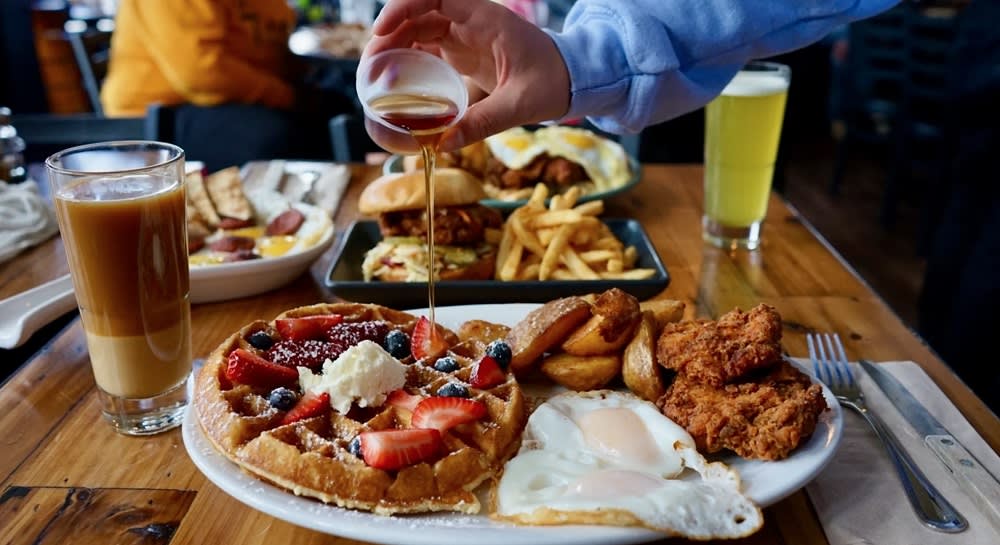 Cracked and Battered
is a local favorite for cozy, wholesome brunch and coffee in the heart of Cow Hollow. This family-owned restaurant offers a wide range of sweet-and-savory halal dishes with a modern twist. You'll always see the classics on the menu, such as fried chicken with waffles and lemon ricotta pancakes, as well as nontraditional brunch items, like Nasi Goreng or the Shakshouka. Guests also rave about the fried chicken benedict and the Memphis chicken sandwich. Cracked and Battered is open seven days a week from 9 a.m. to 2 p.m for dining in, pickup, and local delivery.
GIO Gelati San Francisco
Finally,
GIO Gelati San Francisco
is included for its unforgettable affogato, a traditional Italian treat consisting of hot espresso poured over a scoop (or two!) of ice cream. GIO which stands for "Gelato Italiano Originale" combines the Italian tradition of gelato with local, farm-fresh Californian ingredients to produce healthy, delicious, and silky smooth gelato.
They have an expansive list of flavors
(note that some flavors are seasonal offerings), but almond and hazelnut are the best sellers. Other products include marmalade, jam, cream, candy, chocolate, and dog treats. Customers can enjoy their Italian coffees in person or have beans delivered to their door.
Are you ready to explore San Francisco real estate?
Don't forget to check out one (or all!) of these cafes when you're in the area touring Cow Hollow homes for sale. Cow Hollow's cafes represent only a small fraction of what this great, trendy area offers. If you're ready to call this San Francisco neighborhood home, contact
Artemis Real Estate
today. Whether you prefer historic Victorians or new construction, the San Francisco real estate agents of Artemis Real Estate are ready to take your call and help you find your Cow Hollow luxury home.